You're here to get practical tips on college essay format, right?
I know that most students need advice for an application essay format. When applying to college, they write it as an integral part of the admission process. It's critical to use a proper structure for this paper and make it stand out to impress the committee.
In this article, I'll show you how.
What Is the Format of a College Essay?
If no guidelines prescribed, it will help to consider the essay type. For example, argumentative papers need a more strict structure. The format here is a standard five-paragraph essay with a thesis in the introduction.
College application essays are personal statements. They are more like narratives about who you are for the committee to get an idea of what student you'll be.
Yes, you'll stick to a word count, proper font and spacing, or particular margins here. Yet, there is no set structure and paragraph number. More than that:
I recommend you avoid a standard five-paragraph format in application essays. Officers expect to see more advanced writing skills. Think of a creative structure, but ensure it makes your paper coherent and smooth.
How to Format a College Essay
Below are the rules to follow when structuring and formatting your college essay:
What format should a college essay be in?
As mentioned, you don't have to follow a five-paragraph structure in application essays. Instead, craft it like a feature story with logical elements: a beginning, a middle, and an end.
Consider any of these three creative formats:
One-moment story
Multiple-part narrative
Story series united by a common theme
1) One-moment story. Describe a specific experience, with events and your thoughts "in a moment." This structure is ideal when you want to share reflections, emphasizing emotions.
Example (1):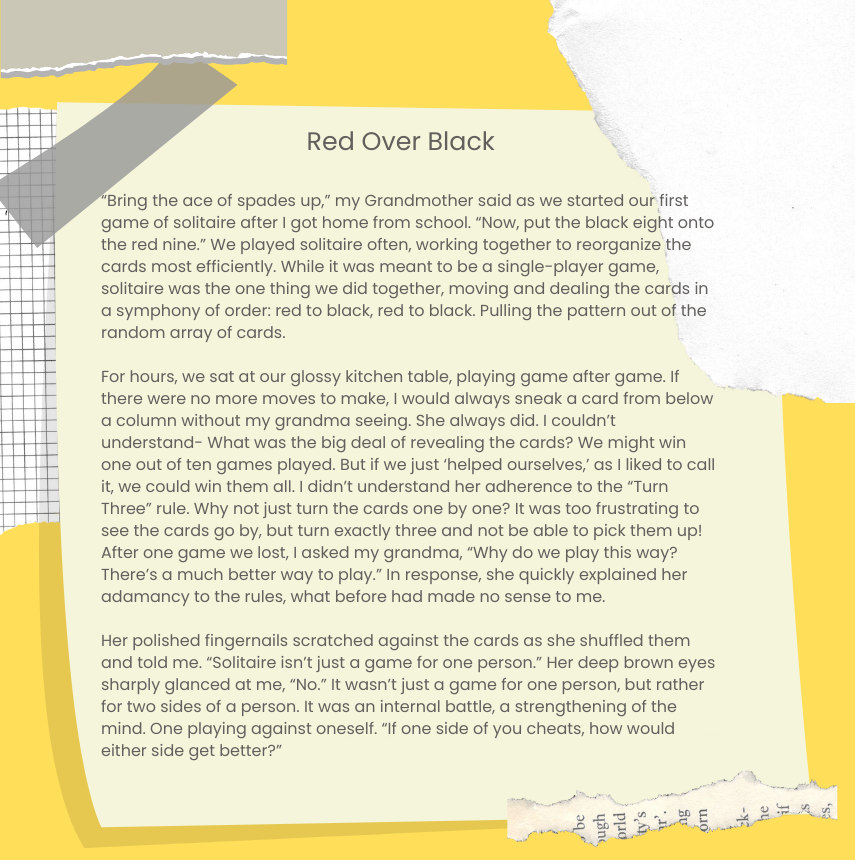 Mistakes to avoid:
Too many descriptions. Focus on the least details, enough for readers to understand the situation.
The focus is on statements. Instead, illustrate them through actions, thoughts, and feelings.
2) Multiple-part narrative. Write a story based on several experiences over an extended period. This structure is perfect when you highlight your development or transformation over time.
Example (2):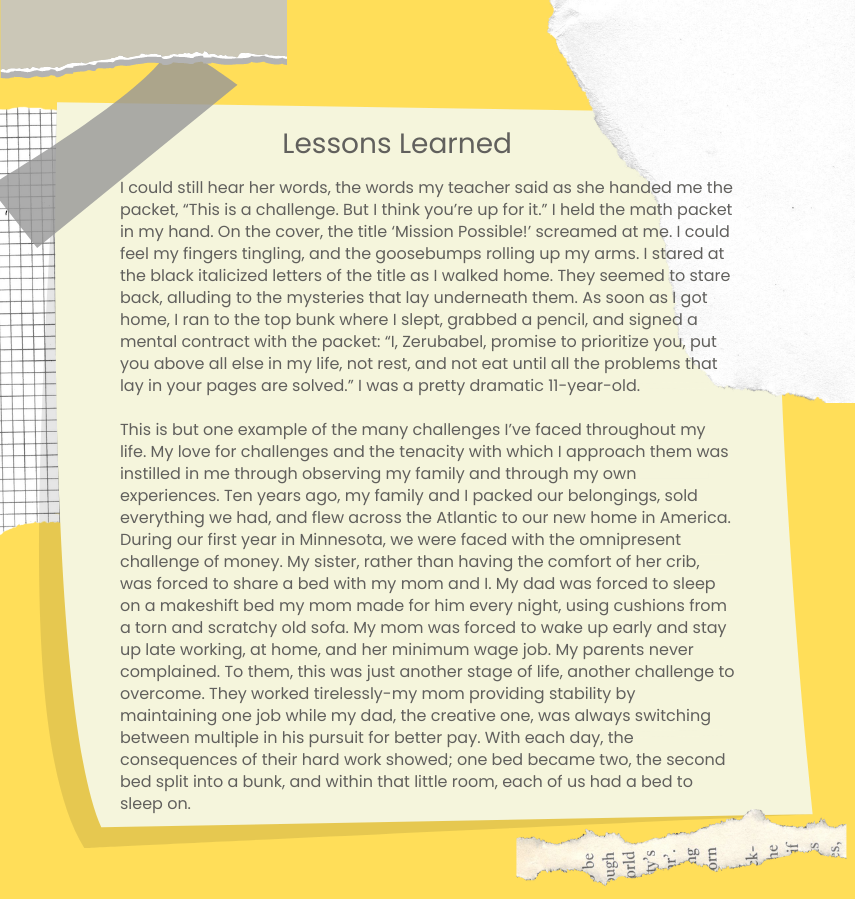 Mistakes to avoid:
No storyline. Ensure you have a story arc with a setting, characters, conflict, and resolution.
Lengthy descriptions with no actions. Focus on key moments of your hero's journey. (3)
3) Story series united by a common theme. Write about the essential experiences of your story that show your personality to readers. Think of it as a movie where you tie separate scenes with a montage to form a story.
Example (4):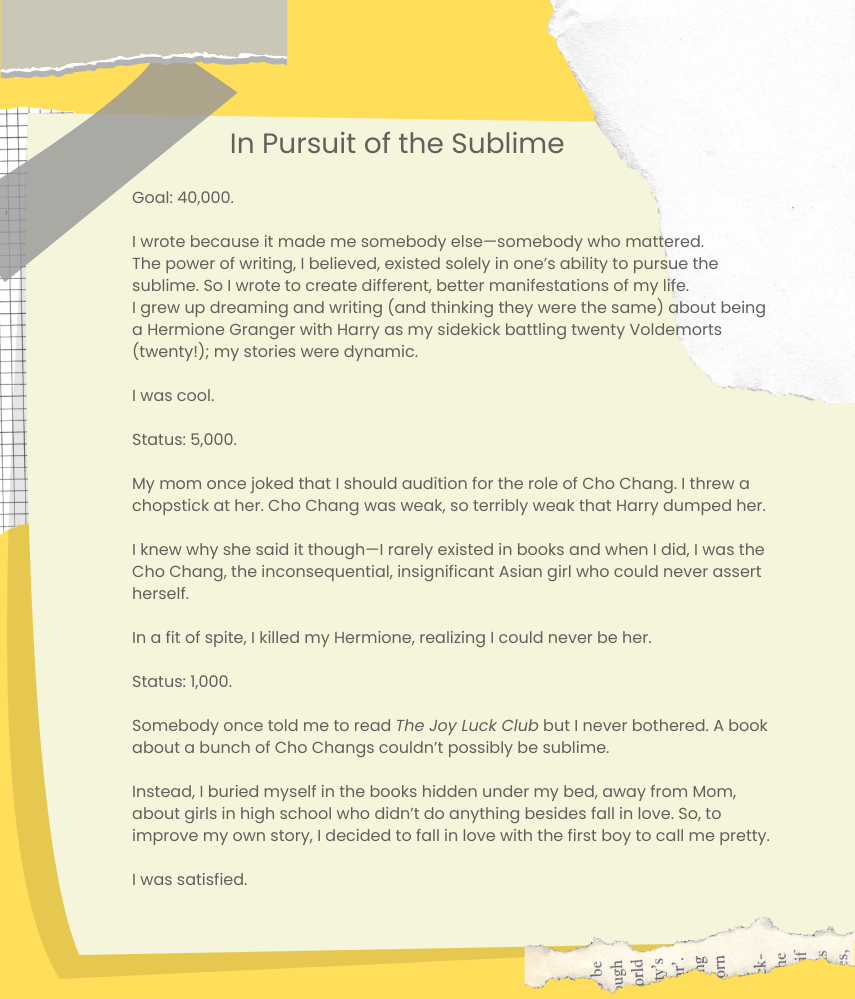 Mistakes to avoid:
Describing unrelated experiences. Focus on those essential for the personal transformation you highlight.
Missing transitions between the scenes. Combine the series into a coherent and smooth storyline, even if not chronological.
How to format a college application essay
| | |
| --- | --- |
| Heading | Don't include a header and your name in the doc unless stated otherwise |
| Alignment | Left |
| Font | 12-point Times New Roman, Colibri, or Arial |
| Spacing | 1.5 or double |
| Margins | 1-inch |
| Format to save | PDF, to prevent incorrect display on admission officers' devices |
| Word count | 300-650 unless stated otherwise |
College essay formatting rules
This table reveals the rules to follow when attaching an application essay as a document.
If you submit it in a text box online, here go a few rules to remember:
No bold or italics. These formatting often don't work in text boxes.
No fancy structures. (For the same reason.)
Double-check the separation between paragraphs. Text boxes often undo double-spacing and indents.
General formatting tips regardless of how you submit an essay:
Stay within the word count.
Ensure you separate paragraphs with indents or proper spacing.
Don't write a title to save a word count.
College Essay Structure: How to Write a College Essay Format
Here's how to write a college essay format step by step:
Consider essay type and topic
While a standard essay format is five paragraphs with an intro, a body, and a conclusion, it's not the one-size-fits-all rule. The way you organize a college paper also depends on its type:
Always check the guidelines your teacher provides with an assignment.
College application essays are personal statements. That's why there are no set rules about their structure or number of paragraphs. The trick is to choose a good topic and stick to a word count.
How to choose a topic for your application essay?
First, check the list of prompts provided by the university. Is there anything among them you'd like your college to know about you?
Decide on the topic that will allow you to showcase who you are. Remember that it's an essay about you. The purpose is to show your values, visions, and ambitions beyond grades. More than that, you have a limited word count to do that.
Topic ideas for applicational essays:
Your experience, interest, event, or person that influenced you
A time (moment) when you failed or met a challenge and what you learned from it
A story about how someone did something for you and how it motivated or influenced you
It doesn't have to be a life-changing event. Think of an ordinary situation: a dinner conversation, a walk with friends, a day at school. Choose something that highlights your personality best.
Here go the college application essay prompts from the University of Michigan (5) for example: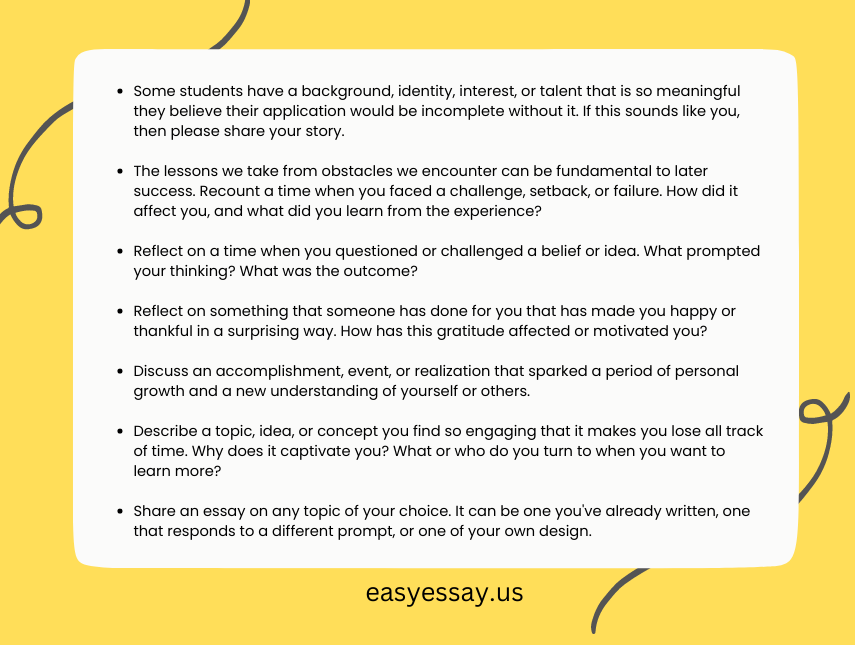 Do the research and decide on statements
By "research," I don't mean a list of references you'll use in your essay. Application papers are personal stories, so you won't need academic evidence to support your arguments.
Research here is more about deciding on what experience(s) you'll choose to cover the topic.
Think of the moments that influenced you:
How did they make you feel?
What emotions did you have?
How did you act?
How did they change (or not) you?
What lessons did you learn from that story(s) that happened then?
Decide on core details (events) along this journey to include in your essay. They'll be statements to illustrate your main point.
Tip: Think of a short yet intriguing title for your application paper. It can help you stand out from other applicants and grab the committee's interest. But ensure it's relevant to the content of your story.
Consider the length and other guidelines
Read the guidelines your college prescribes for application essays. As a rule, they specify approximate topics and the length. Like the already mentioned University of Michigan does:
Stay within the required word count. If no guidelines provided, keep your essay between 300 and 650 words. This length helps:
Decide on essential moments (statements) to describe
Keep your writing concise and straightforward
Focus on verbs and strong adjectives to communicate your idea within a given word count
Leave the most impactful examples in the essay after editing it
Write an essay outline
Before writing an essay, it would help to think about its approximate structure. How will you start, develop, and end your paper to impress readers?
Will you organize it as a chronological storyline? Or, you can choose a "sandwich," starting with a topic and then moving away to back to it at the end? Will you use a one-moment story format or try to build a story series?
Whatever structure you choose, write an outline first. It's a plan for your essay to organize all thoughts and ideas before writing. The goal is to craft a clear and easy-to-follow storyline.
Take short notes on:
A main idea of your application essay: What will your story tell readers about you?
A hook you'll use to start an essay and grab readers' interest
The sequence of events you'll describe. (What you'll tell first, what will be a turning point, and how you'll come to a resolution)
Follow the structure
Now it's time to write a college essay based on your chosen header (topic) and story structure.
Use the outline as a cheat sheet so you don't miss anything, and remember the length. When writing, don't worry about specific styles like MLA or APA. College application essays come with no citations.
The evidence to support your main point here will be the events or experiences you describe. Use analogies and examples from your life to point out the obstacles that have made you who you are today.
Tip: Think of your online as a helper to stay on topic and not miss anything you plan to include in your essay. You don't have to stick to it completely. If, while writing, you see the chosen structure or points don't work, feel free to revise it. It's your personal creative work, after all.
College Essay Format: Template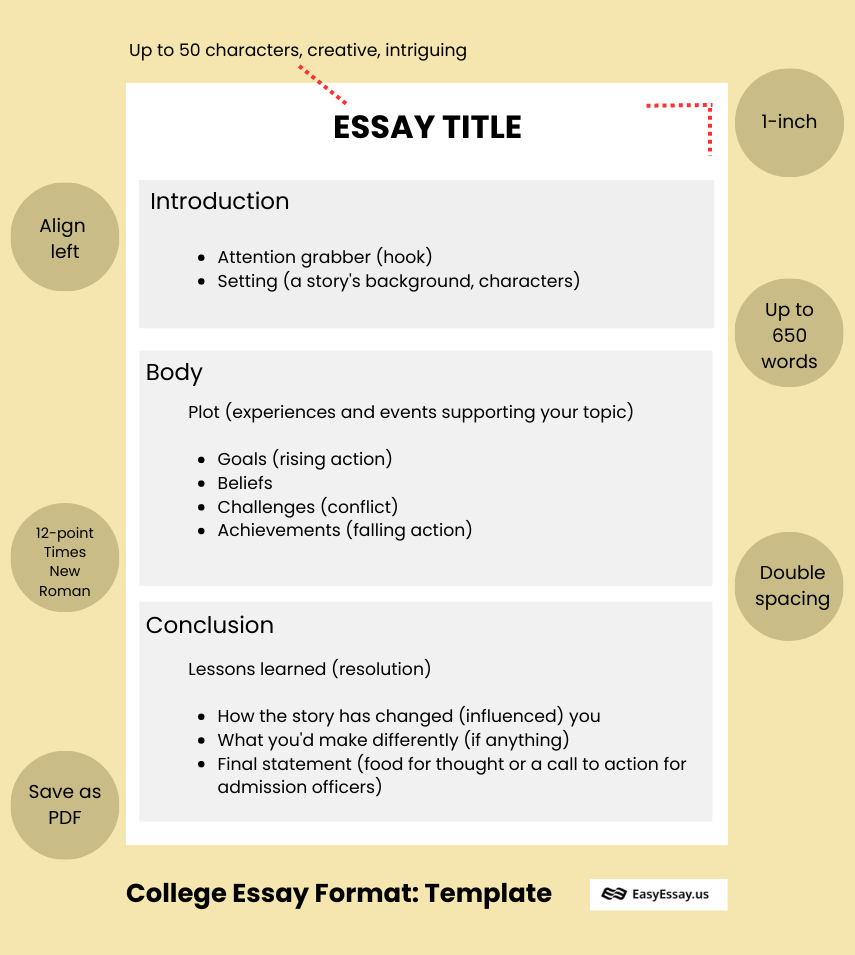 Here's a standard college application essay template. While it's tempting to put the text in given sections, I'd recommend you consider it a guide to formatting your essay's document.
The essay content shows your creative side and writing skills. Feel free to rearrange text blocks from the template. Structure your story the way that communicates your idea best. Be true to your inner self, and don't make the technical formatting rules hold your creative genius.
The examples of college essays that worked show that a structure can be different. If all applications looked the same, it would be a dull read for officers. They wouldn't see your unique personality behind templated admissions.
College application essay format: example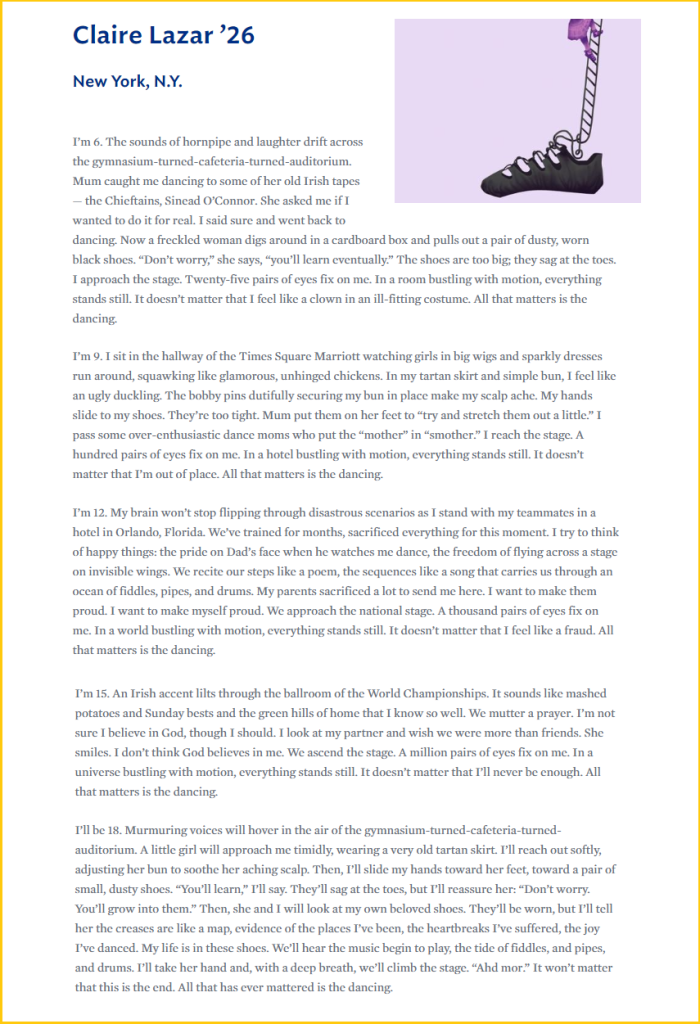 Tip: Come up with a powerful phrase to finish your essay. It's what an admission officer will stay with and remember after reading. Make it concise, meaningful, and emotional.
Frequently Asked Questions
How should I format my college essay?
Format it as a PDF file using 1-inch margins and double spacing. Write an essay in 12-point Times New Roman font, using left alignment. Arial and Calibri are also fine. Keep it within the required word count. While it's not obligatory to use a title, feel free to name your college essay somehow.
How many paragraphs are in an essay?
A standard essay has five paragraphs: one for an introduction, three for an essay body, and one for a conclusion. As for college application essays, there are no set rules. Use as many paragraphs as needed to tell your story and idea to admission officers.
What is the format of a college application essay?
The format of a college application essay reminds me of a standard academic paper. It's a PDF file with 1-inch margins, double spacing between paragraphs, and the text written in 12-point font (Times New Roman, Arial, or Calibri). There's no need to keep to MLA or other citation styles. College essays are personal statements, not requiring any academic evidence.
How to structure an essay?
Use any of these: one-moment story, multiple-part narrative, or one-theme story series. (More details on each one are above.) College essays are personal stories, so there's no strict structure to follow. Write it the way you find most convenient to impress readers.
How long should a college essay be?
300-650 words. Some colleges provide strict requirements and specify a word count for essays. Follow them when writing. If you don't get any particular length for your essay, keep it within 650 words but don't make it less than 250.
Your College Essay Format Made Simple
So, here go the takeaways on formatting your college application essay:
Check the guidelines, if any, and follow them.
Read some college essay prompts to get topic ideas.
Decide on the experience to communicate about your personality to admission officers.
Use a template and write an outline to organize thoughts and structure your essay.
Be creative but sincere when writing. Think of writing techniques that will help your essay stand out from others.
Did I miss anything, or would you like to ask me anything else about the college essay format? Welcome to the comments!
References: