How to cite a song?
This time has come. You write an essay, and those words from Lady Gaga's Bad Romance are a perfect citation to include. How to format it to avoid unintentional plagiarism? How to stick it to the MLA style?
Keep reading:
This article reveals the rules of citing music materials in MLA. You'll learn to cite a track, an album, and lyrics in your papers.
How to Cite a Song in MLA Format
Two forms of audio citation exist, depending on where you listen to it:
A ballad (album) is on a CD, cassette, vinyl, or any other physical medium
It's available online: streaming platforms, YouTube, etc.
Here's how to cite them in MLA 8, MLA 9, or any other grade.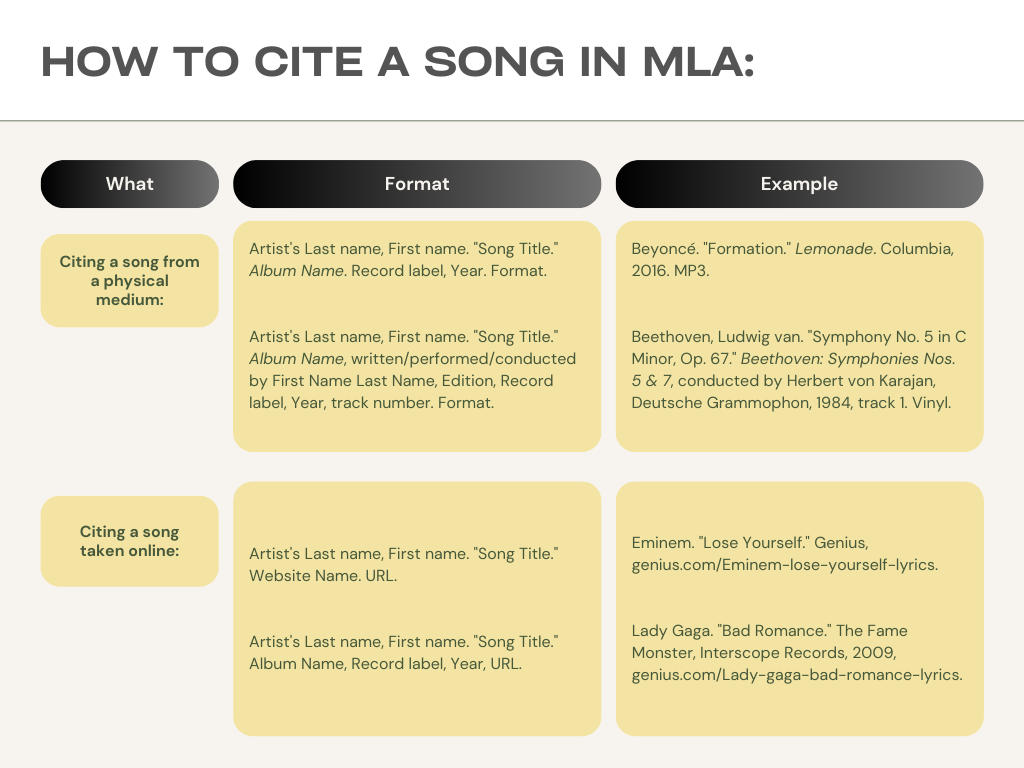 As you see, all references contain core elements necessary for almost every citation (1):
The artist's (band's) name
Melody and album titles
Album's label and a release year
Format (vinyl, cassette, MP3, etc.)
An online platform where you get the audio (URL)
All are a must to incorporate into your MLA citation. Also, pay attention to formatting. Punctuation marks, italics for album titles, double quotation marks for song titles — all details matter.
There are also optional details to refer to in MLA song citations: an album version or a track number, if applicable. Also, you can write the name of a songwriter or a musician instead of the singer. It's relevant when discussing this person or their works in essays.
For example, you can cite a music piece like this:
Format:
Last Name, First Name, role. "Song's Name." Album Name, Artist's Name. Record label, Year.

Example:
Hendrix, Jimi, guitarist. "All Along the Watchtower." Electric Ladyland, The Jimi Hendrix Experience. Reprise Records, 1968.
Please remember that albums are italicized in MLA citation, whether you took them from physical or online mediums (2).
Examples:
Nirvana. "Smells Like Teen Spirit." Nevermind, Geffen, 1991.
Beyoncé. "Pray You Catch Me." Lemonade, Parkwood Entertainment, 2016, www.beyonce.com/album/lemonade-visual-album/.
Lamar, Kendrick. "Fear." Damn. Top Dawg Entertainment, 2017. CD.
How to Cite a Song Lyric in MLA
| | | |
| --- | --- | --- |
| | Format: | Example: |
| You don't cite but mention the song in your essay: | Your text (Artist's Last name + timestamps) | This song's chorus shows characteristic tunes of indie music (Florence 00:01:15-00:2:19). |
| You cite the song lyrics in your essay: | Your text before lyrics "line / line / line" (timestamps). | In the chorus, Sting sings, "I'm just a poor boy / in a rich man's car /So I whisper to the engine, flick on the lights" (0:51–59). |
Song lyrics citation requires mentioning the time when an artist pronounces the text. When citing lyrics from a verse, consider a poetry format:
Place it in quotation marks and divide the lines with a slash.
How to Cite a Song MLA in Text
When integrating an in-text song citation, write the artist's last name and lyrics timestamps in parenthesis.
Here's how to cite a song in-text mla:
(Lady Gaga 2:15)
(Eminem 0:32–41)
If you mention the artist's song but don't cite its particular lyrics, it's okay to write their last name with no timestamps. Like this:
Or, if you mention the artist's name in your text, you can cite it with nothing but timestamps in parenthesis. Like this:
According to Knowles-Carter, … (2:00-3:01).
In her song, Tina Turner describes… (0:23-58).
In-text citations are short: Artist's name + timestamps; Artist's name; timestamps.
The full citation in the MLA style will go to your essay's reference list. That's where you'll mention the audio's name, album, record label, year, and other information you already know from the above.
Song Citation: Challenged Accepted
Now you know how to cite songs in MLA format. Nothing supernatural, right?
Include all the core information:
Artist's last and first name
Song's title
Album
A record label or a publisher
Year of release
Format (whether taken from a physical or online medium)
A website or URL (for audio files taken online)
Pay attention to how to use punctuation in an MLA song citation. Use italics for album titles. And add all audio materials you mentioned in essays to your reference list. It's intellectual property, so do your best to provide credit and avoid plagiarism.
References: