For college students, persuasive essays are about arguments. You learn how to choose and organize them in a paper for the audience to agree with you.
You research, analyze examples, and compile the most reasoning information on the topic. A persuasive essay outline is an instrument to create a compelling, A-worthy paper.
This guide is here to make outlining less challenging and time-consuming:
Here you'll find the formatting rules for an argumentative persuasive essay. After reading, you'll know what to include in the outline and how to structure it. (Let alone the bonus: a free PDF template for creating persuasive essay outlines!)
Let's dive right in.
What is a Persuasive Essay Outline?
A persuasive essay outline is a step-by-step plan for your future paper. It's like a map showing off the paragraphs and the information you'll write in each.
It reminds the table of contents in blog posts or books, listing the paragraphs or chapters.
Middle school and college students craft essay outlines as bullet points or checklists.
Why write outlines for college papers
Note down the research so you don't miss anything while writing
Systemize the knowledge to choose the most reasoning claims for your essay
Organize core points and prescribe evidence for every argument
Structure an essay beforehand to save your time and ease the process
With a detailed plan at hand, you won't struggle with a "what-to-write-next" dilemma. You'll expand ready-made and already-organized arguments. Even 5th-grade students learn to craft outlines for their papers, i.e., this skill is worth time and effort.
Attention! Outlines are for students, not teachers. I mean, you shouldn't submit them for review. (Unless a teacher assigns an essay outline, not a complete paper.) It's your worksheet, a la your writing plan to help structure persuasive texts.
Persuasive Essay Format: What to Include
Before writing an outline, please check the requirements for that particular essay. Every college paper type has basic formatting rules: word count, style, elements to include in every chapter, etc.
The more details you know, the better you organize your text.
Formatting rules for persuasive essays
| | |
| --- | --- |
| Word count | From 500 to 2,000 (consider the teacher's guidelines) |
| Basic structure | 5-paragraph (an intro, 3 body paragraphs, a conclusion) |
| Citation style | APA, Harvard, or Chicago |
| Font | Times New Roman (16pt – a headline; 12pt – text) |
| Spacing | 1.5 or double |
| Alignment | justified |
How to Write an Outline for a Persuasive Essay
A college level persuasive essay has a 5-paragraph structure (1). Follow it when writing your outline:
Start with an introduction.
Go on with 3 body paragraphs, each with a new argument and evidence to support your point.
Finish your outline with a conclusion.
Below you'll find the elements to mention in each paragraph.
Introduction
You don't have to write an introductory paragraph word by word in your outline. All you need is to specify the following elements in brief:
Hook: Decide on a catchy opening sentence to win the reader's interest.
Background Info: Introduce your essay topic. What issue will you discuss?
Thesis: Specify which side of that issue you'll support with arguments and evidence.
Body Paragraphs
A standard structure prescribes three body paragraphs in a college essay. But it's not a strict rule to follow.
The number of sections depends on several factors:
How many claims you'll use to persuade readers.
How long your essay should be.
Whether you add a paragraph with opposite views.
Add as many paragraphs to your essay outline as required to communicate your thesis. Note the following for each:
Topic sentence: What argument will you use to persuade readers about your thesis?
Example: Specify the evidence you'll use to support your point. (Statistics, facts, and any other relevant information)
Transition: Think of a transitional sentence to the next paragraph. How to glue all the info to sound logical and coherent?
Conclusion
The final paragraph of your persuasive research essay should have the following:
Thesis restatement: Don't copy but rewrite it with different words.
Summary: Remind the reader about all the key points you discussed in your essay's body. Thus, you'll establish the significance of your position again.
Food for thought: Leave the reader with a call to action or a question to think about after they checked your paper.
5-Paragraph Persuasive Essay Outline: Your PDF Template
Below is your free PDF version of an outline for persuasive essay. It specifies the core elements (2): All you need is to fill it in with relevant information about your topic. Feel free to use it as a worksheet or a sample for essay outlines.
This template saves you time on paper structuring. Here you can take notes on arguments, claims, and evidence you'll use in a draft. All in one place to organize thoughts and not miss anything while writing.
Writing a Persuasive Essay Outline: Example
And now, to practice.
Say you write a college level persuasive essay. The topic is "Journal writing is therapeutic."
That's what your outline might look like: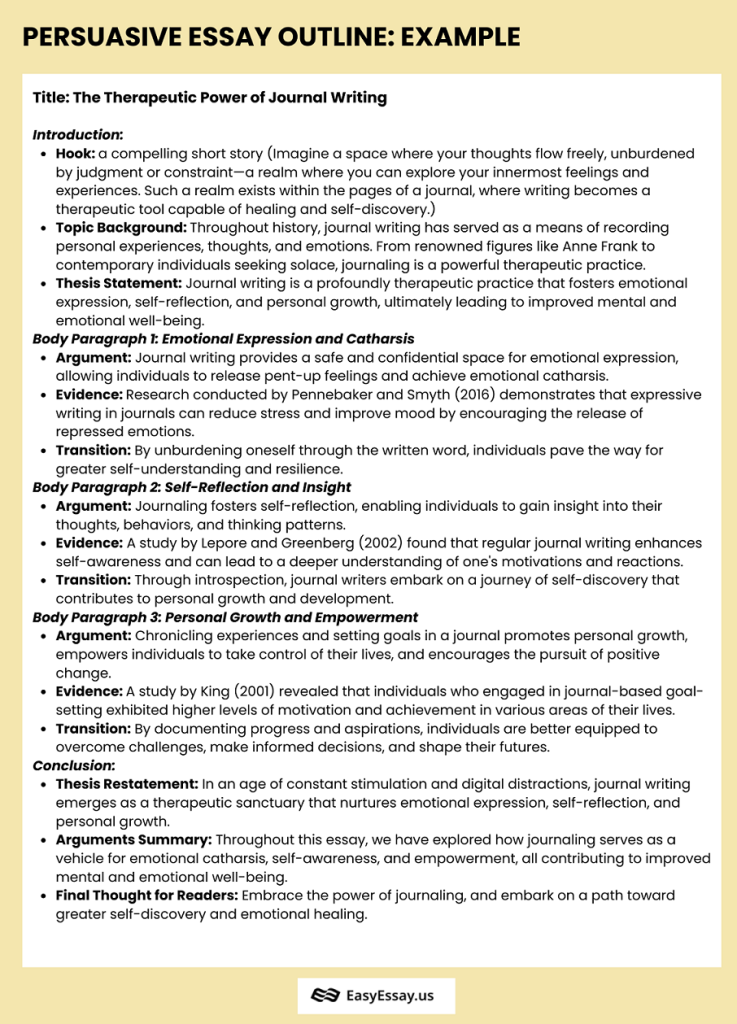 Please note: The above outline is a sample. It's here for help and informative purposes only. So, don't copy but feel free to use it as a reference when writing outlines for your own works.
And here goes another sample of a persuasive essay outline.
The topic: "Trump era brings the end of democracy to the entire world."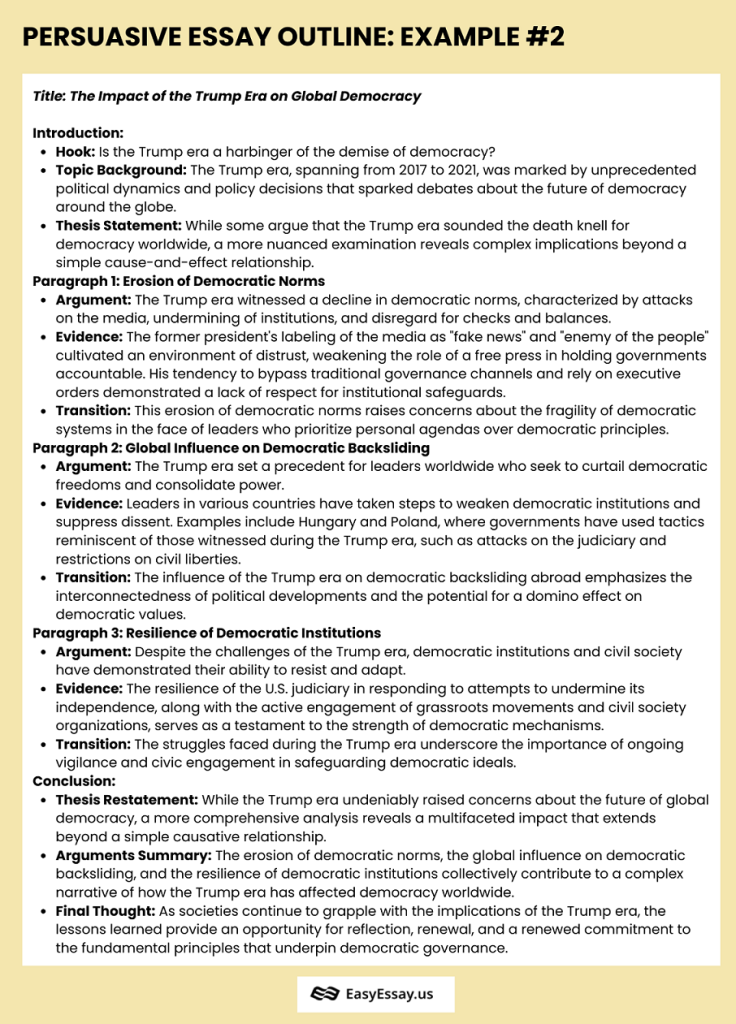 Conclusion
In this post, I've demonstrated how to do an outline for a persuasive essay. Now you have a template and samples to consider for your own works. So:
Follow the formatting rules.
Ensure you add all the arguments and up-to-date examples to support your claims.
Note down everything in brief to ease the writing process.
A persuasive essay outline is a map. It showcases all the information you need to mention for the audience to agree with your points. It's an essay plan to organize your paper for better coherence and engagement.
References: