What is a hook in an essay?
An essay hook is an opening sentence or two at the beginning of an academic paper to grab the audience and motivate them to keep reading.
But there's a catch:
A hook in an essay is NOT an introduction! It opens your introductory paragraph rather than substitutes it. Writing hooks serve to grab attention and encourage the audience to keep reading. Here you'll find the top five hook ideas, with practical tips and examples for different essay types.
Let's dive right in.
What Are Good Hooks for Essays? 
Writing hooks are many, and they work to capture interest and generate curiosity. A reader stays focused on your academic paper, immersing in the context and examining it till the end.
Good hooks for essays give people a reason to invest their time into your content. In the world of a short attention span, when we don't read but scan texts (1), such grabbers matter.
I've been writing educational content for many years, you know. So, I had enough practice to define the features of a good hook. That's how to craft it so that readers welcome it gratefully: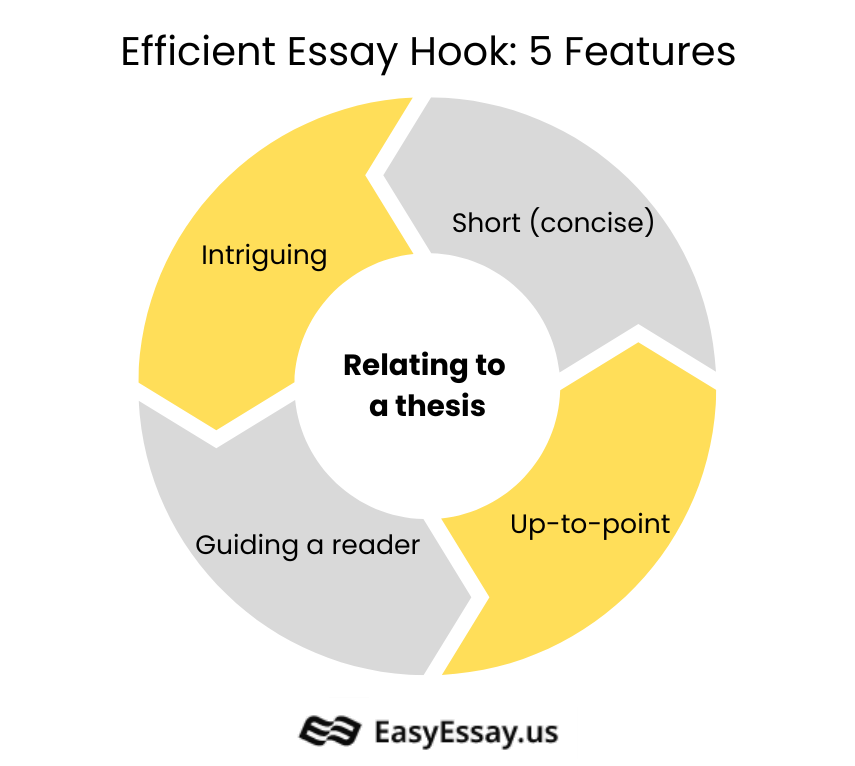 Good Hooks Are Intriguing
Although most essays refer to formal academic writing, remember a hook's primary purpose:
It grabs attention and captures interest to motivate the audience to keep reading. With that in mind, make hooks a bit intriguing. It will engage and evoke readers' interest.
Mistakes to avoid: Say no to irrelevant hooks; don't cheat a reader to get a wow effect. Your hook should refer to the essay's topic and fit its thesis. (More on that below.)
Good Hooks Guide a Reader
It's essential because your reader should understand what they'll get from an essay. Scanning the hook, they already assume your topic and background information. A good hook guides a reader to your thesis statement.
Mistakes to avoid: Don't use common knowledge or boring facts in hooks. Think of something controversial yet relevant to your topic. Otherwise, the hook will "say" to the audience that your paper isn't worth reading. Remember that it sets the tone for the rest of your essay.
Good Hooks Are Short and Up-to-Point
Even in formal papers, writing hooks make readers crave more and continue investigating. You have only five seconds (2) to grab their attention! So it's essential to make hooks short and up-to-point:
Thus, you'll catch the audience at once and encourage them to stay with you.
Mistakes to avoid: Don't use long sentences with many filler words. Be concise, use an active voice, and remember the purpose of your essay. What effect do you intend to have on the reader? Vague words, redundant adverbs, and no clear point in a hook can ruin the impression of your whole essay.
Good Hooks Fit Your Thesis
You know every essay has a thesis statement in the introduction. When writing a hook, make it super relevant to your thesis. It should sound natural and fit the context of your paper.
It's critical for the logical flow of your essay introduction. Such hooks communicate the paper's idea, helping readers get involved in the topic.
Mistakes to avoid: Don't hurry up to craft a hook for an essay. Start with a thesis instead. Once ready, it will help you decide on the hook type that looks and sounds best in the context.
5 Types of Essay Hooks (With Examples)
So, what are the hook types in formal works like academic writing?
Below I'll share five hook ideas with examples. It will help you see how they work for reader engagement. All based on my writing experience and the editorial feedback I got on my drafts.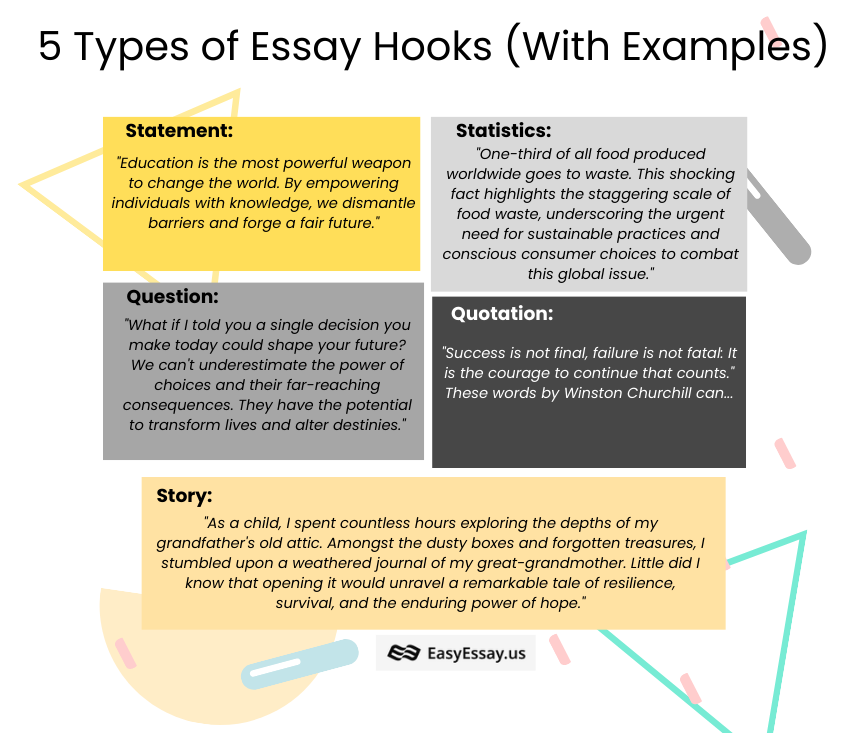 1. Statement
A statement writing hook is a sentence making a clear claim about the topic and research you'll cover. It should reflect the essay for people to see what they'll get if they continue investigating.
Why are statements so engaging?
They make readers want to see what arguments you use to support your research. It's about curiosity again. The audience continues reading to confirm their view of your statement is true.
Example:
"Education is the most powerful weapon to change the world. By empowering individuals with knowledge, we dismantle barriers and forge a fair future."
This hook makes a strong statement about the transformative power of education. It highlights the belief that education can bring significant change, and explains how.
In college papers, a thesis can also be an attention-grabber. Start your text with the core statement you'll support throughout the essay.
A thesis statement can be a hook if you have an alternative (unexpected) take on the subject. Readers may want to see where and how you came up with such a new idea.
2. Statistics
A statistic hook works for more formal and informative academic papers. Consider numbers, percentages, and decimals related to your research to grab readers' interest.
First, it's about psychology again. People tend to perceive the information with numbers as more authoritative and trustworthy.
And second, surprising statistics boost intrigue. Readers will want to find out what's behind those numbers. (Consider something rare or unexpected for a hook to reach this effect.)
But:
Be sure to include the source: Where did you get those numbers? Do not "invent" facts for a wow effect; be honest with your audience when choosing hooks for essays.
Example:
"One-third of all food produced worldwide goes to waste. This shocking fact highlights the staggering scale of food waste, underscoring the urgent need for sustainable practices and conscious consumer choices to combat this global issue."
In this hook for an essay, the statistic about food waste grabs the reader's attention. First, it presents a surprising fact. Second, it sets the stage for delving into the causes and consequences. Finally, it signals that you'll propose solutions to this critical problem.
3. Question
The most popular essay hook type, a question grabs attention at once. It signals to readers that if they continue reading — they'll find the answer.
People are curious by nature, and questions leave them wanting more. It's psychology: Curiosity won't let them put your writing aside.
But:
Not all questions work like writing hooks. You need to ask a thought-provoking one or involve further exploration of the issue. Use open-ended questions in essays. Avoid those too general or expecting short "yes" or "no" answers.
Example: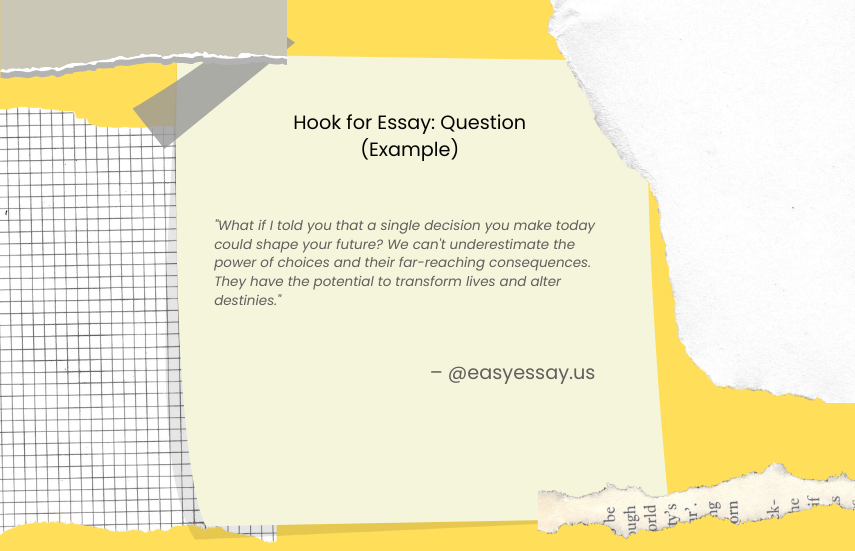 4. Quotation
Some content experts say this hook is "for lazy authors," meaning those who don't know how to engage readers.
Literary quotes or quotes from famous people are super engaging. (Example: Motivational quotes' crazy popularity on social media.)
Yes, this hook has a controversial reputation. It's because newbie writers overuse it, placing random sayings in their content.
A quotation can be an effective way to start an essay by drawing on the insight of a notable individual.
Example:
"Success is not final, failure is not fatal: It is the courage to continue that counts." These words by Winston Churchill can...
This powerful quotation reveals the essence of resilience and perseverance in challenges. Using it as an essay hook, you can introduce a topic on overcoming obstacles or personal growth.
If you decide to use a quotation hook for your essay, here go some tips from me:
Find a rare quote related to your topic. Don't use overused sayings we've all been reading hundreds of times already.
Ensure the quote is from a credible source and check the authorship before publishing it. Otherwise, you risk attributing your chosen quote to the wrong person. (A primary example is "Write drunk, edit sober," attributed to Ernest Hemingway though he didn't tell it.)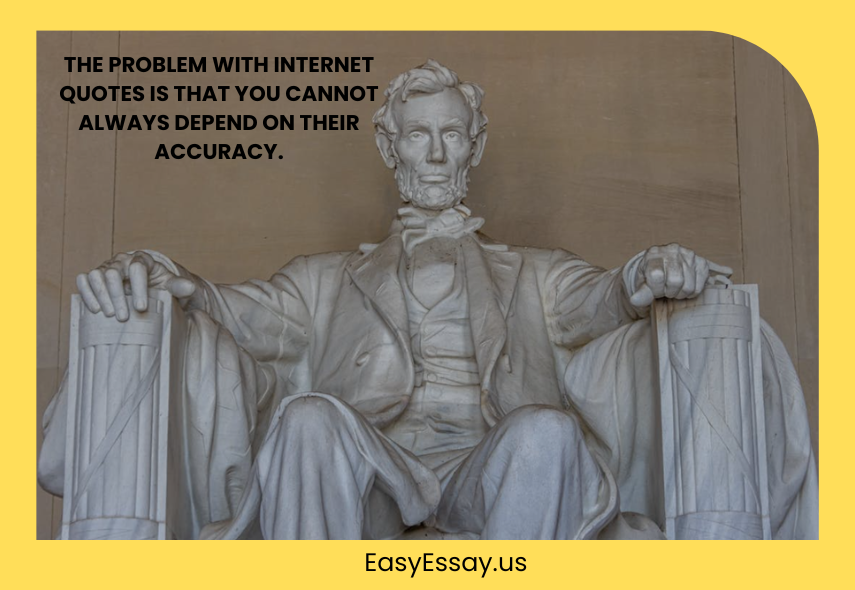 Use quotations that can add to the credibility of your argument. Choose those with powerful and memorable thoughts. Ensure you explain the quote after including it to prevent misunderstanding and confusion.
5. Story
It's the perfect hook for narrative writing: storytelling, blog posts, social media, etc.
Start your paper with a short episode that relates to the essay topic. It can be a real-life or fictional story with a hero to gain the reader's attention and reflection.
Example:
"As a child, I spent countless hours exploring the depths of my grandfather's old attic. Amongst the dusty boxes and forgotten treasures, I stumbled upon a weathered journal of my great-grandmother. Little did I know that opening it would unravel a remarkable tale of resilience, survival, and the enduring power of hope."
Using a short personal story as an essay hook is a compelling way to make your essay more relatable. Opening lines like this captivate attention and create a sense of intrigue.
It introduces an experience or moment that connects to the topic you will be discussing. This approach can create a personal connection between the reader and your essay.
How to Create Attention-Grabbing Hooks for Different Types of Essays
With so many academic papers to write in college, it's critical to understand what hooks work for each. Depending on the essay type and topic, opening sentences may vary.
Below are the best writing hooks practices for different essay types.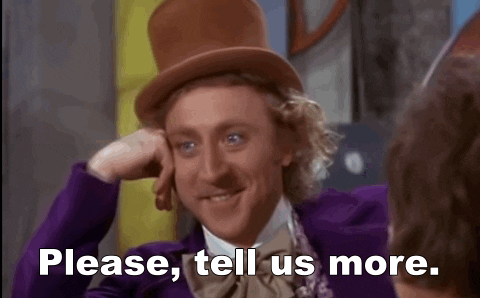 How to Write a Hook for Argumentative Essays
Start with a strong statement or question related to the topic of your essay. It will help the reader understand the point you'll support. Besides, a question evokes curiosity:
The audience will expect the answer and continue reading your essay to find it.
Argumentative writing in schools is about learning critical thinking and communication skills. You try to convince the audience with arguments. Ensure your essay hook matches that confident and convincing tone.
Example:
"Animal testing has long been a subject of ethical debate. But we delve into the disturbing realities of this practice now. It's time to change our stance and advocate more humane and effective alternatives."
This hook is a controversial statement that grabs the reader's attention. It sets the stage for an essay where you use evidence and persuasive arguments to support the point.
How to Write a Hook for Research Papers
Start with a question or surprising statistics. Research papers in college serve to develop your searching and fact-checking skills. A question or statistics in essay hooks will show you can form arguments based on facts.
Example:
"What if we could unlock the mysteries of our universe and reveal all its secrets? Quantum mechanics is that niche to revolutionize our understanding and reshape the future."
This hook engages the reader with an intriguing question about the research topic. It highlights the field's impact, sparking curiosity and setting the stage for exploration.
How to Write a Hook for Compare and Contrast Essays
Use a question or a short story as writing hooks here. The task is to set up a contrast of concepts to show their nature through comparison.
Example:
"Imagine standing at the edge of two diverging paths, leading to different destinations. These paths are traditional education and online learning. Which one to choose? It's critical to explore their subtle nuances and unravel the pros and cons of each approach."
This hook captures by presenting a relatable situation and teasing the exploration. It creates anticipation for the analysis, encouraging one to continue reading for answers.
How to Write a Hook for Informative Essays
Start with a story or a quotation. Informative essays aren't as formal as other papers in schools, making these hook ideas fit. Consider the topic of your essay to choose a proper tone. Quotations work for more formal subjects, and stories serve best for less formal ones.
Example: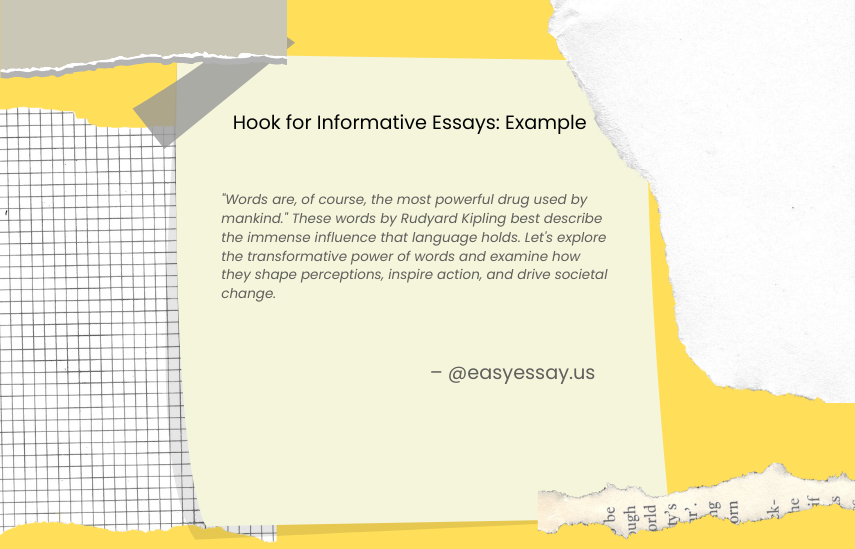 This opening paragraph begins with a quotation. It helps grab attention to the topic and guide readers through the information in the essay.
How to Write a Hook for an Analytical Essay
For analytical essays, consider hook types like strong statements or rhetorical questions. This paper type resembles a critical analysis. So your hook will guide the audience through the context your analysis will tackle.
Example:
"Have you ever wondered how a simple turn of phrase can sway hearts, change minds, and shape the course of history? Delving into the art of persuasive language, we'll unravel the techniques orators use to influence public opinion."
This hook begins with a thought-provoking rhetorical question, engaging the reader. It introduces the essay focus: analyze the persuasive language and explore its techniques.
How to Write a Hook for a Rhetorical Essay
Use a rhetorical question or a quotation from the work you'll explore. Rhetorical essays are about analyzing someone's non-fiction piece (4). So these writing hooks will work best here.
Example:
"Can a single sentence change the world? That's what Martin Luther King Jr.'s 'I Have a Dream' speech did. His strategies have made a profound impact, turning the speech into a timeless masterpiece of persuasion."
This hook is a thought-provoking question. It sets the stage for a rhetorical analysis of Martin Luther King Jr.'s iconic speech. Readers understand you'll explore the writing techniques employed by King to inspire change.
Tips to Create an Effective Essay Hook That Improves Your Writing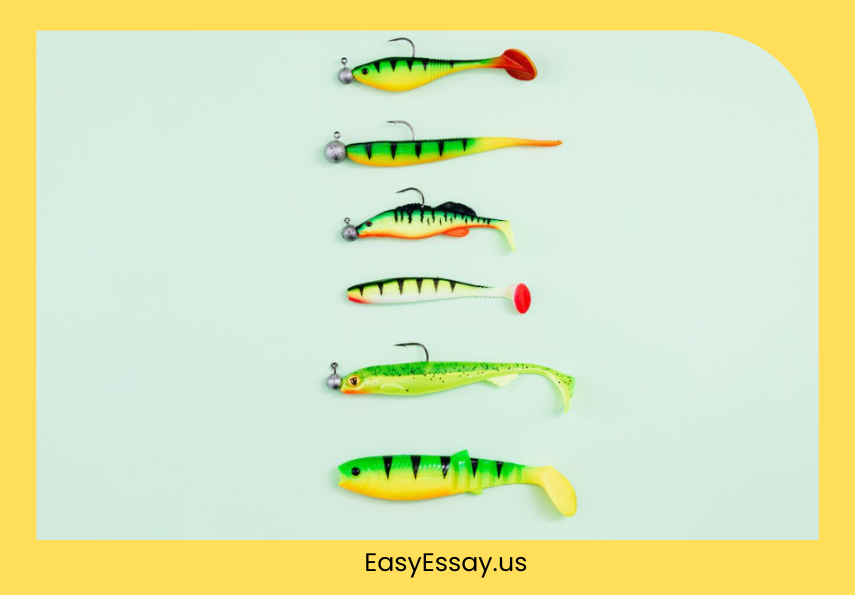 Below are actionable tips for a writing hooks practice. Remember them when working on your essays. They'll make your texts sound professional.
Use AI Content Generators
While tools like ChatGPT are controversial in academia (5), you can still use them for good. Consider AI assistants to help you with writing hooks ideas. They'll offer examples that you can polish for your paper's purpose.
Or, at least, you'll see how to write a hook for an essay. Ask AI to share hook types for different papers — and you'll know how to craft each and improve your writing skills.
Write in Simple Language
Say no to sophisticated terms and fancy words in your essays. Write the way you speak and use words everybody knows. Simple sentences can be informative and persuasive, too.
Please don't try to sound smart. Bunches of lengthy, hard-to-pronounce words make your work sound artificial. Plus, they hurt the essay's readability.
Avoid Passive Voice
I have no idea why it's so, but students love using passive voice in essays. Do they believe it makes them sound formal and authoritative? It's not so.
If you want to improve your writing, don't use passive voice in texts. It makes writing sound weak and uncertain as if you aren't sure about what you are saying. Passive voice also signals poor writing skills.
Add Power Words
Power words are active verbs and descriptive adjectives in your essays. They help communicate intrigue, surprise the audience, and evoke emotions.
Also, don't hesitate to use sensory language in essay hooks and throughout your text. They enhance your vocabulary and make your writing sound professional.
NB! Know your limit. Remember that you write an academic paper, not a blog post or a novel. So, consider the type and purpose of your essay, and add those lexical items only when appropriate.
Forget Redundant Adverbs
Tons of so-called -ly adverbs in essays or web texts make me cry. Not only do they weaken your writing, but they also signal a lack of vocabulary. Examples of such words are very, really, truly, extremely, absolutely, etc.
Filler words and redundant adverbs in essay hooks don't work. They will make readers skeptical about your writing skills and knowledge at once. Remember:
You can always find a stronger verb or adjective to communicate your message.
Example:
Consider "intelligent" instead of "very smart," or try "excellent" instead of "very good." The same rule works for verbs: "Sprint" or "race" sounds better than "run quickly." And "grin" is more descriptive and powerful than "smile happily."
Ready to Grab Readers With a Catchy Essay Hook?
Hook ideas are many, and content writers find pros and cons in using each for reader engagement. Depending on the academic paper you write, some hooks can be more effective than others. Consider the message you want to convey with your essay — and craft your opening sentence.
Now that you know the most efficient types of hooks for an essay, it's time to practice them! You'll see which grabs the most interest. Statements, statistics, questions, stories, or quotations — all work when used right.
Do you use writing hooks in essays? Share your favorite hook type in the comments!
References: